Welcome to the Billy Boyle World War II Mysteries and more.
"masterful . . . Benn combines the best elements of traditional small-town mysteries and WWII thrillers, developing a firm sense of place and never letting the suspense flag. This long-running series shows no signs of fatigue."
—Publisher's Weekly starred review
"The mystery is first-rate, the dialogue is period correct and the series as a whole is the best set of wartime novels since those of the legendary Nevil Shute."
—BookPage, Starred Review
"Benn skillfully advances the stories of the characters he's developed over several previous novels while strategically revealing pieces of the complex murder puzzle. This long-running series grows in breadth and depth with every installment."
—Kirkus Reviews on Proud Sorrows
"The dialogue, settings, and the many characters all feel authentic. Tension builds to a rousing conclusion in Boyle's Poirot-like quest to find the killer or killers and the motives . . . An interesting page-turner about little-known aspects of WWII."
—Historical Novels Review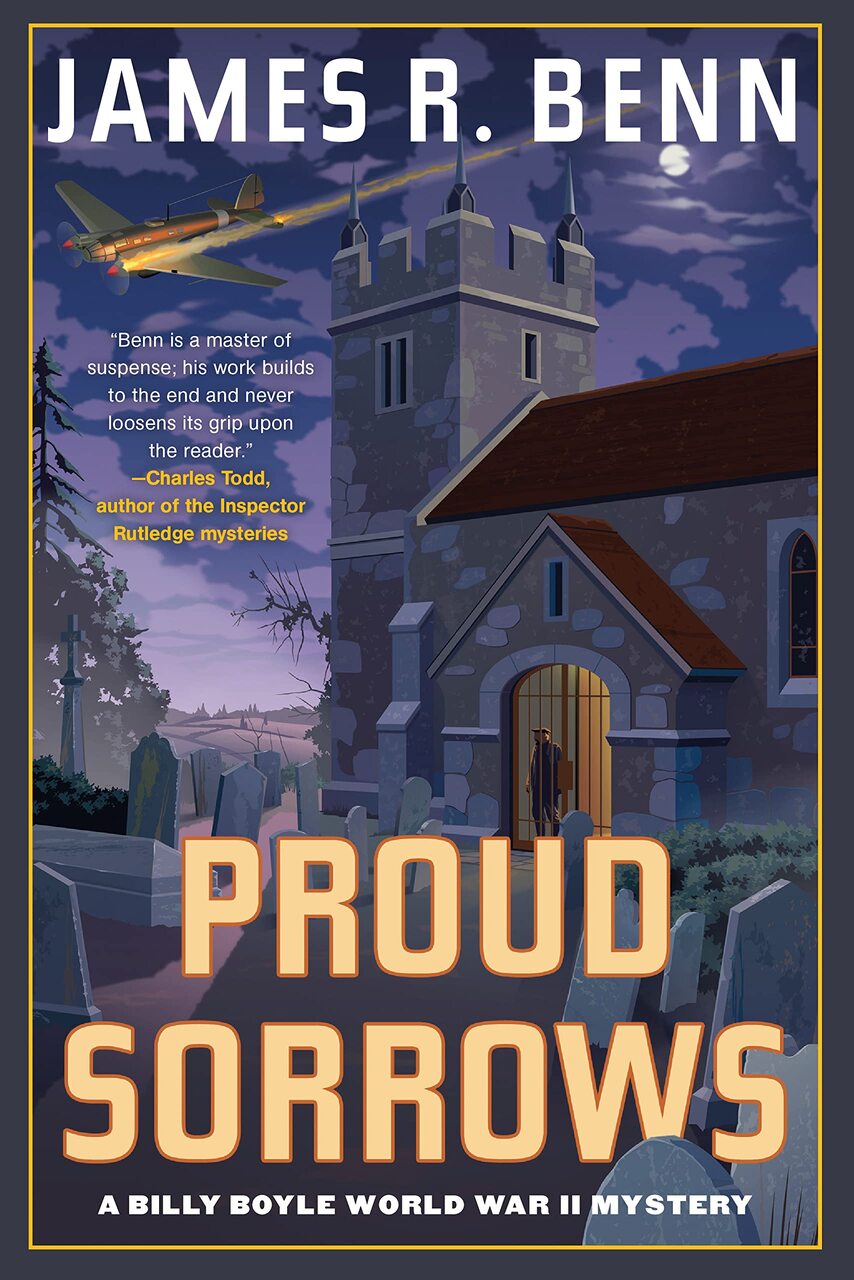 "Where [Benn] excels, apart from superb suspense plotting, is in documenting vignettes of humanity and its black-sheep cousin, brutality. Benn makes combat feel real and immediate to his readers, even those who have never experienced it firsthand. It would be impossible to depict war accurately without killing off some of the good guys, and there are a couple of losses here that will truly hurt, as they should."
—BookPage, Starred Review
"Benn has made superb use of little-known episodes of military history. This time he ups the ante, combining several of those episodes—and a host of real-life characters—into a story that displays both the bureaucratic bungling of the Allied armies and the astounding heroism of individual soldiers and resistance fighters . . . a shocking tale of wartime perfidy."
—Booklist, Starred Review
"At the start of Benn's thrilling 17th WWII mystery featuring U.S. Army investigator Billy Boyle, Billy is dispatched to German-occupied Crete in October 1944 to locate Capt. Richard "Dickie" Thorne, who's been helping the Greek partisans there but has been out of radio contact . . . This richly detailed wartime adventure spotlights acts of barbarity and heroism, bungled leadership, and valiant last charges. Benn reliably entertains."
—Publishers Weekly
"A solid mystery tucked into a colorful thriller dramatizing war's complexity and devastation . . . the books in Benn's long-running series have evolved from straightforward whodunits with a wartime background into ambitious, atmospheric thrillers, broader both in scope and literary finesse."
—Kirkus Reviews
"James R. Benn is a master craftsman of a gold-standard World War II mystery series set in various locations throughout the world. He shines a light on complicated relationships that result from combat as well as honors men and women who have made ultimate sacrifices for a better tomorrow. In From the Shadows, the soldiers of the all-Nisei 100th/442nd Regimental Combat Team, seeking to save the Lost Battalion trapped in the Vosges Mountains in France, are included in Benn's spotlight and I'm eternally grateful."
—Naomi Hirahara, author of Clark and Division and the Mas Arai mystery series
"Billy Boyle returns in another rousing WWII adventure, and I thoroughly enjoyed going back to 1944 France
with him...I have enjoyed this series from the start, but this one was special to me, as it reminded me of the bravery of one of our Senators, Daniel Inouye, a true hero. I was aware of the actions of the Nisei soldiers, but this really brought
their efforts and bravery to a new light. Though I want the war to be over, I want this series to continue to infinity
and beyond."
—Maggie Mason, Deadly Pleasures Mystery Magazine
________________________
Private Ethan Shard is with the US Army of Occupation in Japan, 1950, knee-deep in the black market, getting rich stealing from the Army and selling to Japanese gangs. All that changes when the North Koreans invade South Korea. Ethan Shard is sent to war in a desperate attempt to halt the North Korean advance and is soon captured. It will take all of Shard's strength to survive the brutality of his captors and the climate in this novel of captivity, betrayal, and endurance. This is the story of the most forgotten men of this forgotten war.
The Korean War is often called the "forgotten war." SHARD, James R. Benn's exquisitely researched novel, brings that tragic era blazingly to life. After reading it, you will never forget that war, nor the men who fought it, again.
—Martin Limón, author of War Women and other Sergeants Sueño and Bascom novels.

Concise, well-researched, exciting, intensely personal and illuminating. SHARD, Benn's fictional exploration of the Korean War—America's "forgotten war"—is breathtaking in its detail and astounding in its emotional depth and breadth. An electrifying boots-on-the-ground look at the past that is especially pertinent today.
—Stephen Mack Jones, author of the AUGUST SNOW thrillers
Starred Review from Booklist:
"Benn's ability to sustain his terrific premise while adding depth to his characters makes this long-running series a must for those who love WWII crime fiction."
Starred Review from Publishers Weekly:
Exhilarating...Bolstered by vivid, scintillating descriptions of air strikes and dogfights involving the legendary all-female Soviet air force unit known as the Night Witches, Benn's high-intensity storytelling shines.
A World War II supersleuth, deprived of his usual backup, unravels a tangled web of criminality in Russia . . . Benn's well-crafted series deepens with every installment.
—Kirkus Reviews
James Benn has done it again with Road of Bones. A real page-turner and enormously entertaining!
—Alex Kershaw, New York Times bestselling author of The Bedford Boys.
Hats off to Billy Boyle! Like a fine Irish whiskey, James Benn's series only gets better, and this time there is a most intriguing addition—a regiment of young Soviet female pilots called the Night Witches.
—Susan Elia MacNeal, New York Times bestselling author of the Maggie Hope mysteries
This book had me at Night Witches; James Benn has done it again! Billy Boyle's return in Road of Bones is an absolute triumph. Sharp, resourceful, and daring, Billy is a hero to root for from first page to last. James Benn brings WWII so vividly to life, you'll hear the whistle of shrapnel and wish you had a SPAM sandwich.
—Deanna Raybourn, New York Times bestselling author of the Veronica Speedwell series.
"Billy Boyle has been to some awesome places in James R. Benn's adventurous World War II series. The U.S. Army detective was even a player at the liberation of Paris, where things went badly wrong for him. The Red Horse, which speaks to the dark side of heroism, finds Billy recuperating from that traumatic ordeal (along with a slight meth habit) at the Saint Albans Pauper Lunatic Asylum, now a convalescent hospital in the English countryside for members of the military . . . As historical detective series go, this one is extremely well tended by an author who clearly dotes on his hero. As do we."
—Marilyn Stasio, The New York Times Book Review
"Superlative...Benn maintains a high level of tension throughout and...will engage even first-time readers. This fair-play whodunit stands comparison with the best classic mysteries."
-STARRED REVIEW, Publishers Weekly
"I've read every book in James R. Benn's series, reviewed most of them, loved all of them, and this is the best one yet."
—BookPage, Starred Review
"...Benn's stellar 14th WWII mystery...The author makes the most of the tense and dramatic backdrop to this high-stakes whodunit. Benn has surpassed himself with this installment."
—Publisher's Weekly, Starred Review
"This consistently strong series has jumped to another level, with this volume clearly the hands-down best so far . . . a grandly suspenseful, old-school war story . . . Benn's portrayal of the gallimaufry of competing Resistance groups, whose bullets, Billy learns, kill you just as dead as the Germans' more powerful weaponry, adds a fascinating dimension to this exciting story of the sometimes-deadly chaos that accompanied the liberation of Paris."
—Booklist, Starred Review
"The action starts on the first page and doesn't slow down."
-Library Journal
"Benn packs this installment with historical detail and writes with authority and punch."
-Kirkus Reviews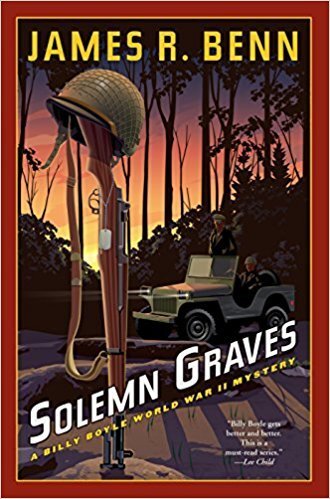 "exceptional...Details about ways to deceive the enemy about Allied army strength lend verisimilitude. Benn has never been better at integrating a whodunit plot line with a realistic depiction of life on or near the battlefield."
—Publishers Weekly STARRED REVIEW
"Once again, Benn has unearthed a fascinating piece of relatively unknown WWII history and built an engaging mystery around it, combining the Ghost Army with a chilling view of the ugly reparations exacted by Resistance fighters on assumed Nazi collaborators. Liberation, Billy is shocked to learn, has its own dark side."
—Booklist
"Benn's plotting and his first-person narrative both acquire more gravitas as they continue to chart the course of World War II. His latest outing is a complex tale that hinges on a particular moment in world history he captures incisively."
—Kirkus Reviews